Jean McConville murder: Arrested man released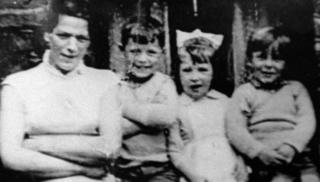 A 56-year-old man arrested over the 1972 abduction and murder of mother-of-10 Jean McConville has been released.
The widowed Belfast woman, who was one of the Disappeared, was taken from her flat by the IRA and murdered in December 1972.
The man had been arrested in west Belfast on Wednesday morning.
Last week, Ivor Bell, 77, appeared in court charged with aiding and abetting the murder of Mrs McConville, whose body was found in County Louth in 2003.
The case against him is based on an interview he allegedly gave to researchers at Boston College in the US.
Mrs McConville, 37, was kidnapped in front of her children after being wrongly accused of being an informer.
The claim that she was an informer was dismissed after an official investigation by the Northern Ireland Police Ombudsman
She was held at one or more houses before being shot and buried in secret. Her body was eventually recovered on a beach.
Nobody has ever been charged with her murder.
The Disappeared are those who were abducted, murdered and secretly buried by republicans during the Troubles.
The IRA admitted in 1999 that it murdered and buried at secret locations nine of the Disappeared.
The Independent Commission for the Location of Victims' Remains was established in 1999 by a treaty between the British and Irish governments.
It lists 16 people as "disappeared". Despite extensive searches, the remains of seven of them have not been found.
The Boston College tapes are a series of candid, confessional interviews with former loyalist and republican paramilitaries, designed to be an oral history of the Troubles.
The paramilitaries were told the tapes would only be made public after their deaths. However, after a series of court cases in the United States, some of the content has been handed over to the authorities.