Arlene Foster in unionist unity call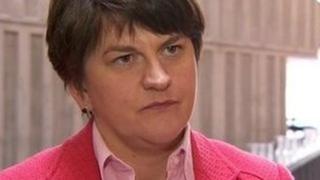 Unionism is being weakened by having too many parties, DUP assembly member Arlene Foster has said.
"Unionism must step back and look at the damage which splits and splinters are doing to the cause," she said.
"The only winner from the inter-unionist bickering is Sinn Féin. While unionists focus on attacking each other, republicans and nationalists unite around two parties."
She was speaking in her Fermanagh and South Tyrone assembly constituency.
In the last general election in 2010, unionist unity candidate Rodney Connor lost by four votes to Sinn Féin's Michelle Gildernew in the constituency.
Mrs Foster said: "Due to unionist in-fighting, there were well in excess of four votes spoilt by unionists.
"That was a strategic error by those unionists. I have spoken to some people who felt the need to destroy their vote at that time. They now regret that decision."
Mrs Foster said unionists "should seek to strengthen unionism rather than consistently attempt to undermine each other".
"Whilst some in recent days have spoken about unionist pacts, we have witnessed very little depth to those statements," she said.
"The DUP is always in favour of greater cooperation between unionist parties."