Lough Neagh Rescue: 'Victory' for expelled crew in charity row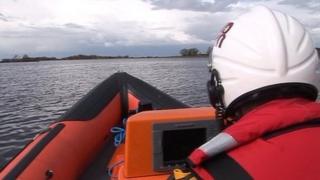 Five crew members of the Lough Neagh Rescue lifeboat in Northern Ireland have successfully appealed their expulsion from the life-saving charity.
In what was thought to be the first case of its kind in Northern Ireland, the five charity members were removed by the Charity Commission.
It followed a bitter internal rift that split the lifeboat organisation.
All five appealed the decision to the Charity Tribunal. The commission has said it will not oppose their appeal.
Lough Neagh is the largest freshwater lake in the British Isles and the Lough Neagh Rescue is a registered charity that operates a 24-hour volunteer lifeboat service from two stations on its shores.
One is based at Ardboe in County Tyrone, and the other from Kinnego Marina near Lurgan, County Armagh. A third station is being established in County Antrim.
'Completely exonerated'
A spokesperson for the Charity Commission said their organisation was "now content with the governance of Lough Neagh Rescue and that the charity is in a better position to manage its membership internally".
"As a result, we have taken the decision not to oppose the appeals of the five members," the commission's representative added.
The crew men - Gregory Burke, Robert Orton, Michael Savage, Michael McGivern and Joseph Hughes - hailed the decision as a victory for them.
Mr Burke said the five were "delighted at the outcome".
"We were completely exonerated. We prepared particularly well for this case," he said.
"This is the first case of its kind in Northern Ireland and is a big deal for us. We would now like to re-engage with the charity."
In January 2012, the group of five crew members contacted the Charity Commission and made a series of allegations about how Lough Neagh Rescue (LNR) was being run.
Costs
However, when the commission had considered their allegations and concluded that they were unfounded, it turned its investigative powers upon them, and removed them as part of an inquiry.
The Charity Commission declined to say how much it had spent on the case.
The appeal against the commission's order to remove another individual, Trevor McKee, as a trustee, has now concluded and the commission is awaiting the outcome of that appeal.
In spite of the internal dispute, the charity has continued to carry out its life-saving duties on Lough Neagh.
It answered more than 20 distress calls last year alone.
A spokesperson for the Lough Neagh Rescue charity said: "While recognising the Charity Commission has removed its objection to the appeal of the five, ultimately its for the charity to decide on its membership."