NI public health: chief medical officer welcomes improvements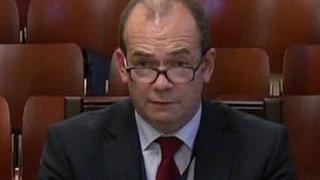 There have been welcome improvements in the health of the Northern Ireland public, but more needs to be done, the chief medical officer has said.
Dr Michael McBride said life expectancy was up and deaths from heart disease and some cancers were reduced in people under 75.
However, he warned that lifestyle factors, such as obesity, continued "to have a negative effect on our health".
He said he was concerned about the impact on future generations.
Speaking at the launch of his annual report, Dr McBride said: "Obesity is undoubtedly the most significant public health issue confronting our generation.
"Levels continue to increase and this in turn is contributing to the increase in people with diabetes, heart disease and cancer. There are now over 75,000 people with diabetes - almost twice as many as 10 years ago.
'Very concerned'
"We need to support people in making healthy choices and ensure that taking a healthy approach begins as early in life as possible."
He said he was also very concerned about smoking rates which indicated that a quarter of adults continued to smoke in spite of concerted campaigns, new legislation and comprehensive smoking cessation services.
"Excessive and irresponsible alcohol consumption, especially in young people, is also threatening to unravel a generation of good work in public health and put further pressure on our health services," Dr McBride said.
"Therefore I think we should continue to engage in the debate about measures such as minimum pricing of alcohol and further restrictions on smoking such as in private vehicles with children present."
According to the 2012/13 Health Survey Northern Ireland, just over half of adults in Northern Ireland meet the recommended levels of physical activity.
Dr McBride said he welcomed initiatives which encouraged pupils to walk or cycle to and from school.
"Living a sedentary lifestyle can potentially contribute to increased risk of long-term health problems. Active travel is an easy way for people to build physical activity into their daily life, for example walking or cycling instead of taking the car," he said.