Drenagh: County Londonderry stately home goes into administration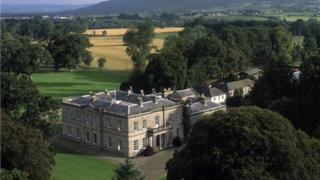 A 177-year-old stately home that is used as a five-star guest house and wedding venue in County Londonderry has gone into administration.
Drenagh, a Georgian mansion within a 1,000 acre country estate near Limavady, has been put up for sale.
The business, known as Drenagh Farms Limited, employs six people and will continue to trade.
The house was built for the McCausland family in 1837 and was designed by the architect Charles Lanyon.
"Recent tough economic times in the leisure market has put unsustainable pressure on cash-flow," a statement from administrators FRP Advisory read.
It added Drenagh is "one of the great country estates of Northern Ireland."
In recent years it has been managed by Conolly McCausland, whose family has owned the estate since the 1700s and built the Georgian mansion in 1837.
"The administration process provides a cushion for the estate to run as normal while a new ownership structure can be established, " said Jason Baker of FRP Advisory.
"The estate will continue to run as normal and the number of bookings is a testament to the popularity of the house, its grounds and its professional staff."