Six-year-old boy hit by car in Lisburn dies in hospital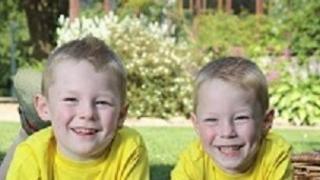 A six-year-old boy who was struck by a car in Lisburn, County Antrim, earlier this week, has died.
Diarmuid Frazer passed away in the Royal Victoria Hospital in Belfast on Friday evening.
His twin brother is in a stable condition in hospital.
The boys had gone with a parent to get their hair cut and were crossing Railway Street when the accident happened at 15:35 GMT on Wednesday.
Police have appealed for witnesses to contact them.