Martin McGuinness asked to support Colombian peace process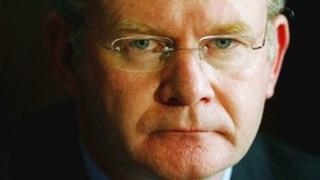 Deputy First Minister Martin McGuinness has been invited to Colombia to support the peace process there.
He was invited by President Juan Manuel Santos and will be in the country from 31 March to 2 April.
Mr McGuinness has been asked to share his experiences of the Northern Ireland peace process with them.
During his visit, he will meet political leaders, trade unionists and others.
"I have shared our experience of the Irish peace process, and the challenges it continues to present, with people across various conflict zones - in the Middle East, Sri Lanka, Iraq, Turkey, the Basque country and Colombia," the deputy first minister said.
"I hope through talking to all participants of this particular conflict, we can impress upon them how central inclusive dialogue is to the process.
"While one peace process cannot be simply transplanted to another situation, there are undoubtedly valuable lessons which can be learned from the Good Friday Agreement and subsequent agreements that we have reached."
.