1994 UVF killings: James Smith denies double murders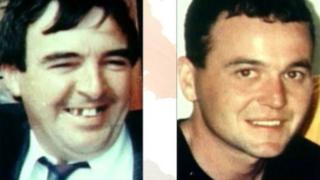 A 48-year-old man has appeared in court charged with the murders of two Catholic workmen in north Belfast in May 1994.
Eamon Fox, 44, and Gary Convie, 24, were shot dead by the Ulster Volunteer Force (UVF) at North Queen Street.
James Stewart Smith, 48, of Forthriver Link, Belfast, appeared at Laganside court on Friday.
He denied the murders and a charge of attempted murder and having a firearm.
When the charges were put to him in court, he replied: "Not guilty to all charges."
Mr Smith's lawyer said he should get bail as he was a life sentence prisoner and, since his release under the Good Friday Agreement 14 years ago, he had not been involved in any crime.
Bail was refused.
About 30 of Mr Smyth's supporters were also in court. After the hearing, they shouted: "You give IRA men bail" and "Scum".
One man previously convicted in connection with the murders has since died.
A second man who appeared in court earlier this year charged with murder is currently on bail.
Mr Fox and Mr Convie were builders from County Armagh who were attacked while eating their lunch in a car parked close to their building site.
Mr Fox had six children, while Mr Convie was a father of one.