Declan Quinn killing: Cousin jailed for manslaughter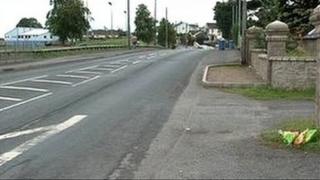 A man who killed his cousin in a deliberate hit and run attack during a family feud over a garden shed has been jailed for 18 months.
Anthony Joseph Quinn was originally charged with murdering Declan Quinn and causing his death by dangerous driving.
The court heard that the accused, from Maplebrook Hill, Coalisland, County Tyrone, "deliberately" drove at the victim on 16 July, 2011.
Declan Quinn, who was 37, died in hospital two days later.
The Dungannon Crown Court judge, sitting in Belfast's Laganside courthouse, described it as a "serious case of bad driving".
He told 23-year-old Anthony Quinn that he will spend a further 18 months on supervised licence upon his release from custody.
Quinn, a disqualified driver, was driving a Vauxhall Corsa on the Gortgonis Road in Coalisland when he hit the victim, who was flung over the bonnet of the car and into the air.
The court heard that Declan's brother Joseph, who is a priest, administered the Last Rites to the victim, who sustained what the judge described as "catastrophic injuries."
He suffered a severed spinal cord, a broken neck, brain injuries and two broken legs in the collision.
The accused later claimed that he thought Declan Quinn had been armed with a handgun at the time, but there was no evidence to suggest this was the case.
'Chased'
Earlier this week, a prosecution lawyer said that Anthony Quinn had driven to his father's home after receiving a call shortly before 09:00 BST, informing him that his house was under attack by three men.
The men - two of Anthony Quinn's cousins, and another man - had gone to his father's to complain about a shed that had been set on fire
As Quinn arrived, the men were leaving, and as he reversed away, the accused was chased in a Mercedes car by one cousin, while Declan Quinn and the third man chased after him on foot.
The prosecution lawyer said the accused managed to escape from the chasing Mercedes by doing a hand-brake turn.
The earlier hearing was told the accused was returning in the direction of his father's house when he came upon the other two men on a traffic island on the main road.
The court heard that Quinn initially told police he had believed all three men had been armed, one with a handgun, one with a sledge hammer and the other with a hammer.
A witness also claimed the men were armed, but that the third man was carrying a spade. However, police only recovered a claw hammer from the scene.
'Terrifying'
The prosecution lawyer agreed it would be "difficult ... to exclude the possibility that in the mind of the accused, he thought either one of the men had a gun" when he struck Declan Quinn while travelling at between 29-39mph in a 30mph zone.
A defence lawyer said her client had played no part in instigating events that morning when he went to assist his father.
She said he later believed he was about to be shot during events that "he found fast moving and terrifying".
Passing sentence, the judge told the defendant he "deliberately" drove in the direction of two men, adding "you didn't stop after impact, but drove on".
Speaking of the impact on Declan Quinn's family, the judge said he hoped they gained comfort from that fact that his death had helped no fewer than eight people waiting for organ transplants.
The court heard the lives of several people - some of whom were children - were changed forever by Declan Quinn's family, who followed his final wish to have his organs donated.
Among those helped was a then four-year-old girl, blind from birth, who saw her parent for the first time through Declan's donated corneas, while another child, a cancer sufferer, received his liver.