North-south interconnector: Could delay lead to power cuts?
There could be power cuts in Northern Ireland if a north-south electricity interconnector is not built, an assembly member has said.
Steven Agnew, a Green Party MLA, was commenting about plans to build a cross border link jointly proposed by Northern Ireland Electricity and Eir Grid in the Republic of Ireland.
The link was meant to be ready by 2017 but the earliest it will now be built will be 2019.
There are concerns that the delay could lead to power cuts because of a shortfall in the availability of electricity.
Speaking to the BBC NI's, The View, Steven Agnew warned that Northern Ireland could be facing "energy insecurity " and in "quite extreme circumstances the lights would go off in some places".
The interconnector will link Turleenan in County Tyrone with Woodland in County Meath.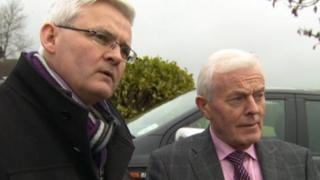 It is estimated the cost will be about £250m.
The cross-border link is controversial and is opposed by some landowners and residents who regard the pylons as unsightly and who also claim there is a health risk.
John Woods, who runs a business outside Armagh close to the site, is opposed to the link.
He said: "There is no way that this countryside should be spoilt with this monster of a project coming through here."
His concerns are shared by others, including Sinn Féin.
Conor Murphy, the MP for Newry and Armagh, wants the interconnector to be placed underground.
He told The View: "I think, if common sense prevails, then, I think, the cables should be undergrounded."
However, Northern Ireland Electricity think any suggestion to place the interconnector underground is not an option and is not feasible.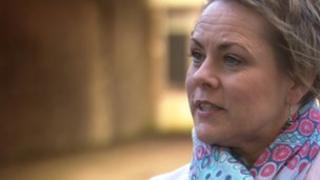 In January, Irish prime minister Enda Kenny said that an underground interconnector would cost nearly £650m, which was about £400m more than an overground system.
The utility regulator, Jenny Pyper, also cautioned that any proposal to take the cross-border link underground would be expensive.
She told the BBC: "There are technical difficulties with it as well in terms of access, the costs increase very considerably - the costs could be anything up to 10 times the cost of overhead lines, depending on how much is undergrounded".
There are genuine concerns about what will happen in the future if demand for electricity outstrips demand.
Economist John Simpson said politicians at Stormont must think ahead.
He said: " We actually do need a coordinated plan, and I think it has to come from Arlene Foster as minister.
"Now, I know she hasn't got all the money and she hasn't got all the leverage, but she has the ability to say somehow or another we have to have extra power generating capacity."
Ms Foster believes that there will not be an energy shortfall.
Speaking at Stormont she said: "We will have the capacity in place by 2016. If the market doesn't come up with the solution, I have always the power to intervene as a government myself. So we can intervene as a department and set up generation."
Planning consent on both sides of the border has yet to be given for the project.
A public inquiry began in Northern Ireland in 2012 but has been adjourned.
In the Republic a review is to be conducted of major electricity projects.
Campaigners hope the review will consider the North-South interconnector and conclude that it should be constructed underground.
The View is on BBC One Northern Ireland at 22:35 GMT.