Bernard Cooke jailed for Hydebank poisoning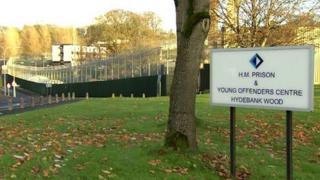 A prisoner who spiked the drink of a female warder while he was in custody has been jailed for a month.
Bernard Cooke, 21, with an address at Magilligan Point Road, Limavady, pleaded guilty to administering a poison to aggrieve the prison officer.
Cooke was serving a sentence for robbery at Hydebank Wood Young Offenders Centre in Belfast in May 2013 when the incident happened.
He used an anti-spasmodic drug used to treat irritable bowel syndrome.
A prosecution lawyer told Belfast Crown Court the prison officer had been helping Cooke who had a history of self harming.
"She took a drink from her soft drink can and started to have a metallic taste in her mouth,'' the lawyer told the judge.
"She noticed a white powder substance around the top of the can. She took it to the security office and staff examined it with a field test kit.
"The can was sent to the Northern Ireland Forensic Science Agency and it was found to contain Mebeverin, an anti-spasmodic drug used in the treatment of irritable bowel syndrome.''
High heartbeat
The victim reported the incident to the governor and following a review of CCTV footage on the landing, Cooke was seen placing something in her can.
The prison officer was advised to go to the accident and emergency department at the Ulster Hospital. An examination revealed she was suffering from low blood pressure and a high heartbeat.
The court heard the warder returned to work the next day but was later sent home as she found it difficult to cope.
The lawyer said that as a result of the incident, the prison officer spent a total of 185 days off work.
He added: "She has since returned to work but on lesser duties. She is still upset and angry about this incident.''
The judge was told that when interviewed, Cooke, who is currently serving a 16-month sentence for robbery, told police that he thought he had given her a laxative, adding that it was only done as a "joke''.
Cooke was due to be released in May but will now spend an extra month in custody for this offence.