Portaferry Exploris: Aquarium to remain open for two months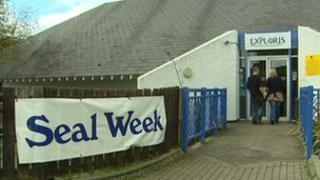 One of Northern Ireland's top tourist attractions will remain open for another two months, before a final decision is taken about its future.
The Exploris aquarium in Portaferry had been earmarked for closure.
Ards Borough Council runs the aquarium. It wants to reduce the deficit from about £500,000 each year to £200,000.
The proposed financial package would include revenue for the Seal Sanctuary from the Northern Ireland Executive.
It also requires a substantial one-off capital grant of about £900,000.
Ards Borough Council will now submit its final business plan for consideration by the executive in April.
The facility is expected to close temporarily from October 2014 for around six months to allow redevelopment work to take place.