Pope Francis: Belfast council to discuss invitation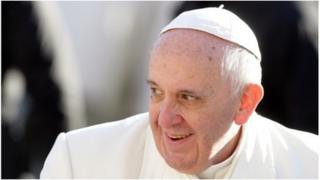 Belfast City Council is to discuss inviting Pope Francis to the city if he visits the Republic of Ireland.
Councillors will debate a motion proposing the invitation on Tuesday, 1 April.
Last month, the Irish senate unanimously voted to invite the Pope for an official visit.
The only papal visit to Ireland saw Pope John Paul II come to Dublin in 1979.
Over a million people attended an open-air sermon in Phoenix Park.
Strong message
The Pope was also due to visit Armagh as part of his tour but it had been cancelled a month earlier after the IRA murdered Lord Mountbatten, the Queen's cousin, and 18 soldiers in a separate ambush.
SDLP councillor Pat McCarthy, who tabled the motion, said: "Times have changed. I would love to see the Pope in Belfast if he comes to Ireland.
"A papal visit to Belfast, endorsed by everyone, would send out a strong message to the rest of the world about how we are progressing, especially after the failure of the Haass talks."
He added: "This could be the last chance of many people, myself included, to see a Pope in Ireland."
If passed, the motion would see the council officially invite Pope Francis to Belfast and ask the Northern Ireland Assembly to do the same.