How picking a flower could put you on wrong side of the law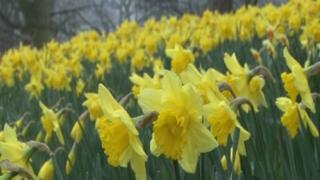 With their sunny colours and swaying stems, daffodils herald the arrival of spring.
So, of course, if you see them growing in abundance in our parks, you might feel like helping yourself to a bunch to brighten up your living room window-sill. But where do you stand legally?
Like many parks and public places around Northern Ireland, the slopes of Ormeau Park in Belfast are swathed in yellow at this time of year. Paper white, golden trumpets - the varieties form a bright carpet on the lawns.
But in some spots, the stems have been pulled up and in some cases, left lying to wither away. That means the bulb may not be able to flower again next year.
'Quiet word'
It also means the person who ripped the stem out has, perhaps unwittingly, committed an offence.
"It's something that is against the by-laws," said Anthony Conway, the manager of Ormeau Park.
"It is an offence to damage, cut or remove any plant, any tree or any shrub.
"In most cases, we just have a quiet word."
But there have been repeat offenders - in some instances, people have been spotted gathering armfuls of flowers for displays and floral arrangements.
In that case, the penalty is more severe, although not financial.
"When given fair warning, if it was to continue, we can ask that person to remove themselves or we can exclude them from the parks," said Mr Conway.
Damage bulb
For enthusiasts like Northern Ireland Daffodil Group members, the idea of pulling flowers up as you go walking is unthinkable.
George Wilson has been growing daffodils for more than 20 years.
"If they're fairly adept at breaking off the stems or whatever, the daffodil will survive," he said.
"But if they just pull it out in a hurry, because they know they're doing something they shouldn't do, they can damage the bulb."
By-laws are posted at the main entrances to most parks, but Mr Wilson believes they might need to be reinforced with something more obvious.
"There are enough by-laws in place but we really need to have a notice somewhere to tell people, 'this park is for everybody's enjoyment - don't pick things'.
"Let them stay there so that everybody can see them and enjoy them, because that's what they're meant to do."