UUP councillors 'walk out' on Irish speaker Linda Ervine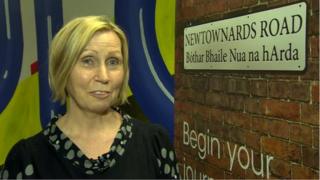 Three Ulster Unionist Party councillors have walked out of a Down District Council meeting in protest, ahead of a presentation about the Irish language.
Walter Lyons, Desmond Patterson and Robert Burgess left the meeting early, before an address by Irish language development officer Linda Ervine.
Mr Lyons said the UUP "had to make a stand" because they believe the council is ignoring unionists' views on Irish.
He said the language was being "forced upon" unionists and "used against us".
Mrs Ervine is a development officer at a recently opened Irish language centre in a loyalist area of east Belfast and is married to the former Progressive Unionist Party (PUP) leader, Brian Ervine.
She was invited to Down District Council to deliver a presentation about the hidden history of Protestants and the Irish language.
'Totally ignored'
Mr Lyons said the UUP's protest was not meant as a personal insult to Mrs Ervine, but was intended to send a message to nationalist councillors.
He expressed anger over recent changes to union flag policy and the public consultation process regarding the introduction of Irish language street signs.
"Over the past number of years, the council has totally ignored the unionist view on the Irish language and the flying of flags," Mr Lyons told BBC Radio Ulster.
"It used to be 70% of the replies had to be favour of the street signs. They changed that to the majority of the replies, so they could have 20 houses contacted and three people reply, and if two of those wanted the Irish sign on their street, it would be granted.
"Then we have the Irish language being forced upon us at the new council offices - £30,000 of ratepayers' money was paid to put Irish on the signs.
"Nationalists voted that Irish would be the first language, English the second and then Braille. So we just felt that somewhere along the line we have to make a stand," Mr Lyons added.
'Ignorant unionists'
"In no way did we mean to insult Linda. I had a conversation with her last week and she was well aware of our position, that we were not protesting at Linda or the work that she does in east Belfast.
"We were just trying to make a point to say to nationalists - we've mentioned things in committees and at the full council, and the reason that she was invited there was to tell us ignorant unionists about the Irish language, which we are aware of," he said.
Last June, Down District Council authorised the implementation of a bilingual policy, the stated purpose of which is to "facilitate and encourage the promotion and use of both the Irish and English languages".
Among its policy objectives, it aims to "enable everyone who receives or uses council services, or contributes to the democratic process, to do so through the medium of Irish or English, according to personal choice".
Mrs Ervine told BBC Radio Ulster she was not insulted by the protest but was "disappointed" that the UUP councillors did not want to stay at the meeting for her presentation.
She said Mr Lyons was an "old friend" of her husband and had called her in advance to explain there had been "certain wrangling within Down Council" and that the Irish language had become embroiled in the dispute.
"That's something I'm always upset to hear, because I hate to hear of the language being abused or used in a way that would be offensive to people."
'Wake-up call'
Mrs Ervine said she had entitled her presentation "a hidden history" because many people were not "aware of the many, many historical links between the Protestant/unionist community and the Irish language.
"I think it's a real wake-up call, not just for people from the unionist community, but also from the nationalist community, that this language doesn't belong to one community.
"There is a shared, linguistic history here and it's as much a part of our heritage as it is for people from the nationalist community," Mrs Ervine told Good Morning Ulster.
She dismissed the controversy over the walk-out as a "storm in a tea-cup".
Mr Lyons said he had "great admiration" for Mrs Ervine and added his party colleagues have already accepted an invitation from her to go to east Belfast "to see the good works that she does".
"We don't have a difficulty with the Irish language per se, but the way it has been used against us," he said.
Last month, a senior Orangeman warned Protestants against learning the Irish language, claiming it was "part of the republican agenda".
Belfast County Grand Master George Chittick made the call at a loyalist protest in north Belfast.