Northern Ireland's poorest 'still struggle after downturn'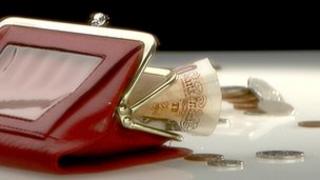 The poorest people in Northern Ireland are continuing to struggle after the economic downturn, two reports suggest.
Research from the Nevin Economic Research Institute (NERI) uses official data to suggest that about one in six workers in NI are classed as low paid.
A report from the Joseph Rowntree Foundation examined the pattern of falling incomes in the recession.
It found that the typical household saw a 9% drop in income while the poorest households saw a 16% drop.
The report says falling incomes were driven by an increase in youth unemployment and a rise in the number of people working fewer hours than they would like.
It suggests that older people have been spared the worst effects of the economic downturn, with pensioner poverty rates falling during the years of recession.
The report also cautions that poorer people could face further difficulties as a result of welfare reforms, many of which are still to be imposed.
The NERI report addresses the persistent issue of low pay in Northern Ireland - the region consistently records the lowest rates of private sector pay of any part of UK.
The report uses the EU-wide definition of low pay, which is two-thirds of the typical salary.
On that basis 115,000 workers are classed as low paid.
It also uses a second measure known as the living wage; an hourly wage that is assessed as giving workers a basic standard of living.
In Northern Ireland it is assessed to be £7.45 an hour - well above the minimum wage - and about one in four NI workers earn less than that amount.
NERI says that the large numbers of workers classed as low paid "raises serious doubts over the future economic prosperity" of Northern Ireland.
The institute acknowledges that structural issues like skills development can only be tackled over the medium term.
However, it suggests that the Northern Ireland Executive could address low pay in the shorter term by implementing the living wage across government services and making it a condition of public procurement contracts.
NERI, which is backed by trade unions, also recommends that the executive establishes sectoral wage-bargaining arrangements similar to the Joint Labour Committees in the Republic of Ireland.
CBI Northern Ireland director Nigel Smyth said he did not believe there was a "particularly strong appetite for this among employers".
"We are all aware that Northern Ireland has traditionally been a low-wage economy - most of that is structural, and the challenge of getting out of that is a medium-to-long term one," he said.
"It is about driving up productivity, upskilling, investing in research and development, innovation, and bringing in higher quality jobs and foreign direct investment - on the back of that wages will rise."
Mr Smyth said the national minimum wage was rising higher than inflation for the first time in five years, but setting its level involved a "balance and a trade-off".
"The living wage at the moment in the UK is about £7.65 - that would result in a significant loss of jobs, according to evidence collected by the Low Pay Commission," he said.
"We need to stimulate and grow productivity - there is no point in putting up costs for employers. There is a very significant number of companies who are already losing money, and making them lose even more will not be very helpful in getting a sustainable and growing economy here."