Eileen Reid launches legal action over Irish language street signs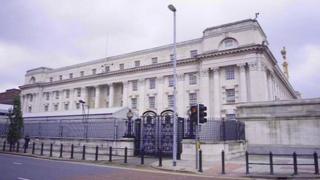 A west Belfast resident has launched legal proceedings against Belfast City Council over its policy on Irish language street signs.
Eileen Reid, from Ballymurphy Drive, has been granted leave to seek a judicial review over being denied dual-language name plates on her road.
Her lawyers claim the method for surveying householders is unlawful.
They claim residents who did not respond were wrongly counted as being opposed to dual signage.
Ms Reid was canvassed about having supplementary Irish street signs erected on her street.
Under council criteria, two-thirds of those questioned need to declare themselves in favour before the new plates can go up.
It is understood that out of 92 eligible residents, 52 confirmed they wanted Irish signs, with only one opposed.
However, the remaining 39 did not respond to the survey.
According to Ms Reid's legal team these non-returned votes were wrongly counted as being opposed to dual signage.
They contend that the two-thirds policy does not comply with a requirement in local government legislation for the views of residents to be taken into consideration.
Her lawyers also claim that Belfast City Council is also in breach of its obligation to promote Irish under the European Charter for Regional and Minority Languages.
A preliminary hearing in the High Court to determine whether an arguable case has been established was not contested on Monday.
David Scoffield QC, for Belfast City Council, said: "Without prejudice to a vigorous defence of the case at full hearing we don't propose to object to the granting of leave."
With Ms Reid clearing the first stage in her challenge, Mr Justice Treacy listed her challenge for June.
Outside court her solicitor, Michael Flanigan, said: "My client is seeking to have this policy struck down because it doesn't comply with the law.
"What is required is a policy that is consistent with the law and the council's obligations under the charter, which is to promote the use of Irish language in public life."