Belfast Met: Report critical of sale of unused buildings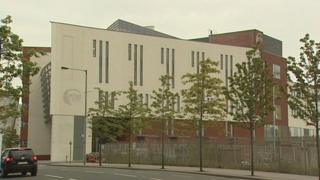 A decision to sell two buildings belonging to a further education college ended up costing the public purse £20m, a report has found.
The Audit Office report looked at the construction of a new building for Belfast Metropolitan College in Titanic Quarter.
It examined the cost of replacing two unused buildings in Brunswick Street and College Square East.
They were originally to have been used as part payment for the new project.
However, Belfast Metropolitan College thought it could get more money by selling them on the open market.
But the property market slumped, and the £20m it thought it would get had to be provided by the public purse.
The old campuses are now vacant and unsold but caretaking, maintenance and planning applications have, so far, cost more than £1m.
'Value for money'
The auditor general said it was not possible to say whether the whole project has been value for money, while the two buildings remained unsold.
The audit office said there were constant changes to the design and numerous failures to meet project milestones.
Negotiations for the new college, which should have been completed in a year, took two and a half years.
There was criticism of poor planning and the report said a number of factors were not taken into account, such as how many students were expected and what facilities would be needed.
The vital IT facilities were requested only four months before the new college opened.
An underground car park was built at the college but as a separate project, after the builder's funders said they believed it to be a risk and would not pay for it.
The Department for Employment and Learning paid another £5m into the scheme to cover it.
Local planning regulations specified parking had to be provided but it had not been included in the original specifications.
However, there is a discrepancy in the duration of the contracts.
The main college building is mortgaged to the developer for 25 years, yet the car park will not be handed over for 40 years.