Crumlin barrister sentenced for 'insulting' texts to ex-girlfriend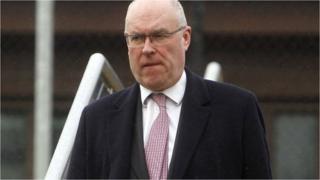 A County Antrim barrister has been given a suspended sentence for harassing an ex-girlfriend.
Peter Sefton, 64, of Long Rig Road, Nutts Corner, was given a three-month jail term, suspended for two years.
He also has to pay £3,000 compensation to his victim and a two-year restraining order was imposed on him.
The court heard Sefton had "bombarded" the woman with what a judge described as "clearly insulting abusive, intimidating and controlling" texts.
The court had heard how Sefton and his ex-girlfriend, a social worker in her early 30s, met through working at the courts.
They began a relationship in March 2012 but by the beginning of May there were problems and it had become an "on/off relationship", with the victim receiving numerous "worrying texts".
Document
"One minute he was telling her that he loved her, and the next the texts were hateful in nature," a prosecution lawyer said.
A 600-page document of text messages was handed to the judge.
The prosecution, describing some of the messages as "highly derogatory, malicious and unpleasant", said Sefton also took to driving past and parking outside the woman's home, sometimes for hours and often in the early hours of the morning, and that he would text or call while outside.
For example, on 1 June at 02:25 BST he sent a text saying: "I'm outside, can I come in please" which left his victim "disturbed, worried and distressed".
Three days later, she told Sefton: "Peter, all this driving past my house has to stop. It's getting out of hand. It needs to stop or I will go to the police."
Despite that plea, Sefton "continued to inundate her with texts" and she eventually reported the matter to the police on 15 June after which officers served him a formal police inquiry notice (PIN).
"From that day, if it wasn't already clear before, it must have been obvious to him that she viewed what he was doing to her as a harassment," said the lawyer.
She added that "in spite of her clear and demonstrable desire to get him to stop he continued".
'Bunny boilers'
The next day Sefton posted on his Facebook page: "Why are there so many bunny boilers about?" and when asked what he meant replied "a mad vengeful woman, some of them are not far away".
Sefton, arrested and interviewed by police in September 2012, denied doing anything wrong, claiming that he was worried about his former girlfriend's health and wanted to elicit a response - claims that he repeated while giving evidence on his own behalf.
Delivering his judgement, District Judge Liam McNally said he was disregarding many of the allegations of Sefton driving past or parking outside his victim's home owing to inconsistencies in her evidence and that there were "serious doubts" over the credibility of the victim's mother.
The judge added, however, that the text messages and their content could not be in doubt and needed to be considered "in some detail".
Describing the text messages as a "bombardment," the judge said he could find no word in the English language that would describe them better.
"In a nutshell, from May onwards he sent a large number of texts to her [which were] clearly insulting abusive, intimidating and controlling," he said.
He added: "I have no difficulty in concluding that he pursued a course of conduct and that he knew this course of conduct amounted to harassment.
"I can do no better than adopt the description which he himself gave of his characteristics in text messages on 4 June to the effect that he was difficult, headstrong, proud and arrogant.
"Accordingly I convict him on the charge on harassment on dates between 11 May and 18 September 2012."
Sefton's solicitor said his client had already paid a penalty in that he had not been instructed by the Public Prosecution Service since the matter was reported to police and that he faces further potential sanctions from the Bar Council's disciplinary board.