New medical service to help children in NI with serious chest illnesses.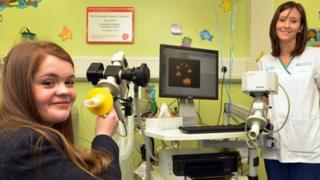 A new medical service has been launched to help children in Northern Ireland suffering from serious chest illness.
The new regional respiratory testing service at the Royal Hospital for Sick Children in Belfast will have a range of specialist equipment.
The state-of-the-art service has been set up by Prof Mike Shields.
"The value of all this new equipment is that it allows us to monitor children's health in great detail in their own homes as well as in hospital," he said.
"We can measure how effective the child's breathing is at rest, in sleep and even with exercise."
The equipment includes a top-of-the-range Jaeger MasterScreen system for measuring precisely how well children's lungs work.
Northern Ireland Chest Heart & Stroke have provided £80,000 towards the service - £10,000 of this was raised by the members of Templemore Amateur Swimming Club in east Belfast in a sponsored swim.
NI Chest Heart & Stroke's chief executive, Andrew Dougal, said: "Children and families from every part of Northern Ireland will benefit from this state-of-the-art service that will include mini breathing monitors for use at home and specialist testing equipment based in the hospital. Most importantly, it will greatly improve the quality of life of children with lung disorders," he said.
Paediatric pulmonary physiologist Patricia Watters, who will run the centre, said: "Complicated and demanding tests need to be made as simple and fun as possible for children and their families and the combination of experienced staff and cutting-edge technology will now allow this to happen for children throughout Northern Ireland who need it.
"This new laboratory will benefit children with asthma, Cystic Fibrosis, other lung diseases and children undergoing treatments that have the potential to damage the lung such as some children with cancer or inflammatory bowel disease.
"It will also help us to provide the safest care for the growing number of children who rely on technology such as portable ventilators or home oxygen to help their breathing at home."
The Public Health Agency helped secure funding through the Respiratory Framework for Northern Ireland for the staffing and running of the facility.
The centre was officially opened by the Chief Medical Officer, Dr Michael McBride.