Lord Eames: Warning on dealing with past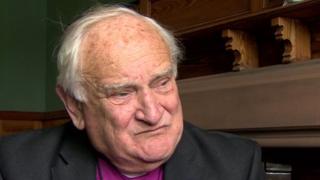 Lord Eames has warned politicians that unless they deal with the past, problems over parades and flags will never be resolved.
He was speaking in Belfast at a cross-community youth event, held to discuss the aftermath of the Haass talks.
Lord Eames called on politicians to listen to the next generation who wanted the past resolved in order to forge a better future.
He said the controversial issues were based on recollections of the past.
Failed attempt
"My view, quite honestly is that until you have solved how we deal with the past, the issues like parades and flags are not going to go away because both those issues are based on our recollection of the past," the former Church of Ireland primate said.
Five years ago, Lord Eames was involved in a failed attempt to deal with the past, when a report he compiled with Denis Bradley failed to win widespread support.
The recent talks chaired by former American diplomat Richard Haass also ended in disagreement.
Asked for his message to politicians, Lord Eames said: "Listen, you're talking in many cases in the past, you're using the language of the past.
"Young people are saying 'for God's sake give us a future, give us something we can build on'."
.