Helicopter crash: Declan Small's funeral takes place in Mayobridge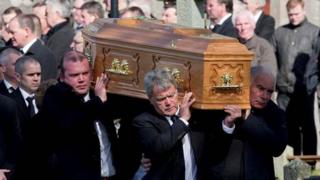 The funeral of Declan Small, one of four men killed in a helicopter crash in England earlier this month, has taken place in Mayobridge, County Down.
Mr Small died along with his employer, Lord Ballyedmond, 70, and pilots Carl Dickerson, 36, and Lee Hoyle, 45.
Mourners in St Patrick's Church heard Fr Charlie Byrne describe Mr Small, 42, as Lord Ballyedmond's right-hand man.
He said Mr Small was much loved by his many friends and renowned for his quick wit.
'Broken hearts'
"We all, in a sense, felt numb and wondered why this should happen to Declan and to such a good family," Fr Byrne said.
"Our thoughts and prayers go out to all whose hearts are broken."
The four men were killed instantly when a helicopter crashed at Gillingham, Norfolk, 10 days ago.
Mr Small, a native of Mayobridge, was a site foreman for Lord Ballyedmond's company, Norbrook Laboratories at Newry.
It is not yet known what caused the crash, but witnesses reported fog in the area at the time and said the helicopter came down very soon after taking off at about 19:30 GMT.
Mr Small is survived by his mother and three brothers.