Cattle scab: Northern Ireland farmers urged to be vigilant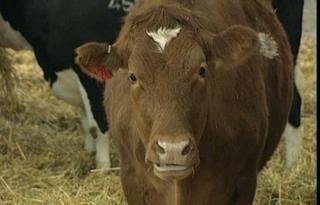 Northern Ireland farmers are being warned to be vigilant following the discovery of a case of cattle scab in Scotland.
Cattle scab, also known as psoroptic mange, is caused by mites that pierce the animal's skin to feed.
It causes severe dermatitis leading to immense irritation for the animal.
The Department of Agriculture and Regional Development (DARD) said while it was not a notifiable disease, it was of "significant animal health concern".
A Dard spokesman said: "The Department of Agriculture and the UFU (Ulster Farmers Union) are aware of the increasing incidence of the disease in England and Wales and have urged farmers... to be vigilant and consider the risk when importing cattle."
The first case of cattle scab to be confirmed in Scotland since the early 1980s was diagnosed by vets from Scotland's Rural College (SRUC).
The disease was found on a Borders farm in a calf recently imported, with its suckler cow mother, from outside Great Britain.
In a statement, the college said: "The disease has severe welfare and economic consequences as it causes severe dermatitis with scab formation along the back, shoulders and tail head, but it can also extend over the lower body, hind legs and the tail.
"There is usually intense itching and secondary infections are common leading to bleeding and crusting. Affected animals inevitably lose weight and in extreme cases death can occur."