Lough Ree: Divers searching for missing County Armagh man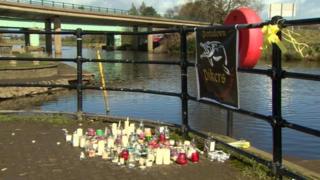 More than 30 divers have been searching a lake in the Republic of Ireland for a missing County Armagh angler.
Darryl Burke, 30, from Portadown, has not been seen since Thursday after a boating accident on Lough Ree in County Westmeath.
One of his friends, David Warnock, 27, from Richhill, County Armagh, died after being rescued from the lake.
A third man, John Trimble, 60, is stable in hospital. All three belonged to a County Armagh angling club.
Their boat sank during a fishing trip on the lough.
A relative of Mr Burke, Gary Davidson, said it was devastating for the whole family.
Mr Davidson said: "I'd like to thank everybody that has come out to support the family and hope and pray that they get Darren soon and bring him home.
"Maybe it'll relieve a wee bit of the pressure that the family's going through."
Sunday's search at Lough Ree also involved the Lough Ree lifeboat and many local fishermen.
More than 200 people attended a vigil in Portadown on Saturday night in support of the families affected by the tragedy.
Sydney Anderson, a local MLA, said the vigil happened spontaneously.
"The number of people that attended here last night was testimony to the way that people are thinking right across the community... pouring out their grief to the families who are suffering at this time," he said.
Mr Warnock, a former captain of Armagh Hockey Club, was engaged with a four-year-old son.
He had been due to play in a league cup final next Saturday, however, that is now likely to be postponed as a mark of respect.
His friends and team-mates said he was a superb player who could have gone on to play for other clubs, but his loyalty was with Armagh.