Edwin Poots welcomes news on meningitis B jab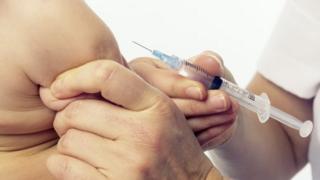 NI's health minister has welcomed news that a vaccine that protects against a deadly form of meningitis is set to be introduced in the UK.
The Joint Committee on Vaccination and Immunisation (JCVI), has recommended the move to the government.
Meningitis charities said it was a "wonderful outcome".
A spokesperson for DUP minister Edwin Poots said he welcomed the quest for an effective, safe and cost-effective vaccine against meningitis B.
"Negotiations regarding the vaccine price will now be taken forward by the Department of Health England on behalf of all the UK health departments," said the spokesperson.
"He looks forward to a positive outcome."
About 1,870 people contract meningitis B each year and one in 10 dies.
Limb loss
Babies under one year are most at risk of the disease and the cases peak at around five or six months of age.
The bacterial infection causes inflammations of the brain and spinal cord.
It leaves one in four with life-altering effects, such as brain damage or limb loss.
The move to introduce it to the UK has also been welcomed by SDLP Foyle MP Mark Durkan.
Mr Durkan had tabled parliamentary motions and campaigned at Westminster, calling on the government to introduce the new vaccine.
He also supported a campaign by Londonderry parents Emma and Darren Cowey who lost their nine-month-old son, Jamie, to meningitis B in November 2004.
"As the minister's letter today indicates, the focus will now be on getting the best price deal for the vaccine on the NHS rather than the previous position which questioned its efficacy and value," he said.
"Given that it took five years to get the meningitis C vaccine on the schedule, today's announcement is really welcome progress - even while we await the subsequent implementation.
"My own constituents, Darren and Emma Cowey, were typical of the character of the campaign that was fought - having lost their young son to meningitis B and wanting vaccination to spare others from that risk."
The JCVI said the vaccine was effective in preventing meningitis B and should be rolled out subject to it being made available by the manufacturer "at a cost effective price".
It has recommended the jab be added to the existing immunisation schedule, starting at two months of age.
About 700,000 infants will be eligible for vaccination each year.