Alliance Party holding annual conference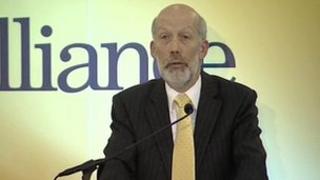 The Alliance Party meets on the outskirts of Belfast on Saturday for its annual conference.
Irish Deputy Prime Minister (Tanaiste) Eamon Gilmore is among the guest speakers.
On Friday night, at a pre-conference dinner, Alliance members were addressed by the retiring deputy chief constable Judith Gillespie.
On Saturday, party leader David Ford is expected to paint a picture of a growing, confident party.
However, it is a party which has faced a turbulent time since the role it played in the decision to stop flying the union flag every day at Belfast City Hall.
But most attention is expected to focus on the speech by the party's European candidate Anna Lo.
She caused a storm among unionists this week by declaring her preference for a united Ireland and referring to Northern Ireland as artificial.