Parents accused of sexually abusing their four children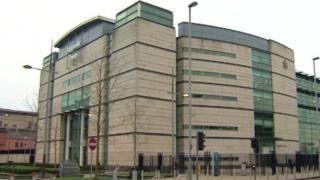 A prostitute who made some of her children watch as she had sex with clients, one of whom was a police officer, has pleaded guilty to cruelty, gross indecency and neglect.
Her four children suffered sexual abuse, neglect and cruelty by their parents, two uncles and two other men, a Belfast court has been told.
The offences were committed between the late 1970s and early 1990s.
The court heard the abuse occurred when the four children were very young.
It also heard the mother had sex on various occasions with different men, usually while drunk, sometimes even with two of her brothers.
An earlier hearing had been told the woman was a prostitute.
The prosecution barrister told the court on Friday that the woman made her young children watch her having sex, when some of them were as young as six.
He added that one child was so neglected, she was left in a cot until she was two years old and could not walk or talk.
The court also heard details of a social worker's report that said that the home was dirty, full of rubbish and the children were left starving. The social worker also observed mouse droppings in a cereal box.
The mother was constantly drunk, it was alleged.
The judge also heard that one child, a 'bed wetter', was made to sleep on a heavily soiled mattress.
The prosecution barrister said the father subjected the children to multiple and brutal beatings, usually with a belt and sometimes around the head.
None of the family can be named in order to protect the identity of the victims.
Former police reservist Thomas Fitzpatrick, 53, formerly of Crewhill Gardens in Ardglass, County Down, but now with an address in Belfast, was convicted of indecent assault and gross indecency.
Patrick Kilmartin, 59, a baker from Newcastle, County Down, and originally from Bryansford Gardens but now at another address in the town, was convicted of indecent assault.
The mother and father pleaded guilty to 17 counts of cruelty and neglect and the father one of assault.
The mother also admitted six counts of gross indecency.
The children's two uncles pleaded guilty to charges of child sexual abuse.
It is expected that all the accused will be sentenced later.