Desertcreat police training college process 'ongoing'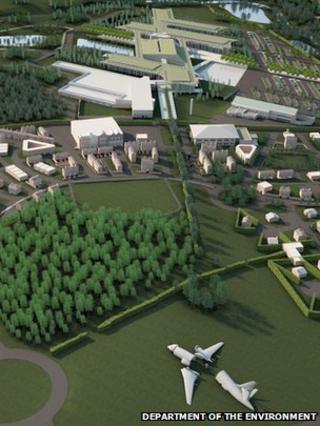 The procurement process for building the Police and Fire Training College at Desertcreat is "still live and ongoing", a Stormont committee has been told.
However, there is some uncertainty over whether the preferred bidder can meet its tender requirements, interim Deputy Chief Constable Alistair Finlay said.
DCC Finlay told a joint meeting of the Enterprise and Justice Committees that the preferred bidder for the project had given a commitment it was still standing by its tender.
However, he said this did not "sit comfortably" with the cost information it had provided in a working document a few days before.
DCC Finlay said the preferred bidder had informed the project team on 11 March that sub-contractor prices were above their estimates and it was looking "too big a challenge" for it to hold to its price.
Mr Finlay said two days later, the preferred bidder confirmed in writing that it was committed to the project.
He said there would be a further meeting the following week to allow it to clarify its position.
"Should the preferred bidder continue to be in the position that they are currently stating to us that they can hold their tender price, then the process to achieve full business case approval, executive approval and the signing of the contract can still be achieved in the planned timelines, provided necessary approvals are given expeditiously," he said.
DCC Finlay said he wanted to emphasise there was "no lack of commitment" from the preferred bidder, but that it had been "somewhat surprised" by increased costs in the supply chain.
He said that if it looked as if the preferred bidder was unable to meet its tender, then there could be a completely new procurement process.
"The tender price is the tender price. If the contractor intimates they cannot complete this for the tender price, then that fundamentally flaws their bid and therefore extracts them from that process," he said.
He said if the project was retendered the costs that would have been lost would have been "fairly limited" to £679,000 in programme management fees and about £400,000 in business case fees.
The £130m Police and Fire Training College at Desertcreat, near Cookstown, County Tyrone, would be one of the biggest construction projects in Northern Ireland.
Justice Minister David Ford previously responded to media reports that a contractor had pulled out of the project.
Speaking in the assembly, he said the preferred bidder had not withdrawn its tender and that he remained committed to getting the training college in place.
The minister said £20m had been taken out of the original costings but he did not believe this would have a negative impact on the functionality of the college.
In December 2013, it was announced that the college would be built by a consortium comprising of Belfast company Gilbert Ash and Spanish firm FCC, with the final cost agreed over the following months.
Work was scheduled to begin in the spring, subject to final contract approval by the Northern Ireland