Jimmy Ellis's son Toto pays tribute to his father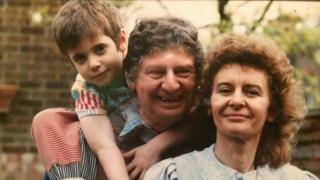 The family of the late Jimmy Ellis has said he wanted to be remembered as someone who helped Northern Ireland people to smile.
The Belfast-born actor, who starred in the police series Z Cars and the "Billy plays", is being buried on Friday in his home city.
Speaking ahead of the funeral in east Belfast, his son, Toto, said: "For all Dad's success he was an incredibly humble man and never lost his roots.
"I think he'd just like people to think that the east Belfast boy, who was the son of a sheet metal worker on the Titanic, did one or two things to help people from Northern Ireland smile a little bit more and helped people from beyond Northern Ireland to know what Northern Ireland is all about."
Although the 82-year-old actor lived the majority of his adult life in England, his family brought his body back to Belfast for burial.
Toto said: "It was one of those strange decisions because it's going to be weird that he will be a flight away for all of us, and yet that really never crossed our mind.
"Belfast is home, Belfast is where he's proud of.
"Dad was always proud to take a Belfast voice and a Belfast story over to England.
"He was very proud in his early years to go in the face of authority and convention to make a valid point… and I think it was incredibly deliberate that he delivered those lines in Z Cars with such a deliberately thick, strong Belfast accent."
Toto said his father "absolutely consciously maintained his accent" even though the drama schools told him he should perhaps learn the Queen's English.
"Actors like Jimmy Nesbitt, Ken Branagh and so forth all would say that, by doing that, he blazed the trail for Northern Ireland actors. He provided the 'permission' to have that accent in England," he said.
"I watched him rehearse lines over and over and over again. He was meticulous behind the scenes, but allowed a slightly chaotic exterior to be part of his charm."
Toto said there had been some amazing tributes, from actors such as David Threlfall.
"He said he was the 'bouncing puppy to Dad's man-mountain, benign wise man' and that he had an air of 'although I'm just bumbling along here seemingly haphazardly' he was thoroughly prepared.
"There's a great story where someone had the temerity to suggest that Dad didn't know his lines and, when they returned from a lunch break, Dad delivered his text backwards just to make a point."
Jimmy Ellis is survived by his wife Robina, their son Toto, his daughter Amanda from his first marriage and three grandchildren.
Toto, who is now in his 30s, explained his unusual name.
He said: "I called myself it. As it happened at the time there was the rock band Toto, the Italia '90 scorer Toto Schillaci, films like the Kitchen Toto and Toto the hero, the clown etc.
"I was supposed to be called Matthew, but Toto stuck."
Toto added: "There are no words for how we'll miss him. To watch him slip away was the hardest thing we've ever done.
"The wisdom that he gave on screen was equally as brilliant when it came to life's big questions and I won't be able to ask those questions again."