Lough Ree search for missing Northern Irish man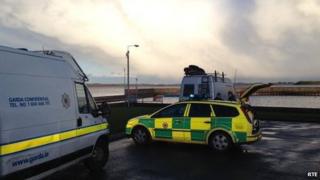 Two men from Northern Ireland are critically ill in hospital and a third is missing after their boat sank while on a fishing trip in County Westmeath.
The men, from a County Armagh angling club, had been planning to camp on an island in Lough Ree when they got into difficulties on Thursday afternoon.
A search operation for the missing man, led by the Irish coastguard, has been stood down for the night.
It is to resume at first light on Friday.
Emergency services were called out at about 15:20 GMT on Thursday.
An RNLI lifeboat recovered the first man, semi-conscious in the water, at about 16:00 GMT. The second man was found at about 17:15 GMT.
The first man found is said to be about 30, the second man in his 50s. The missing man is also believed to be his 50s.
Conditions on the lake were described as gusty at the time of the incident.
Richie O'Hara from the nearby Bay Sports Centre said the alarm was raised by other anglers the men were due to meet.
"Two of the party called into our centre and they were quite concerned about three of their party who they had arranged to meet further up the lake," he said.
"When they hadn't arrived as planned, those two gentleman who called in came back down the lake looking for them."
Lough Ree RNLI Lifeboat Operations Manager Damien Delaney said: "This was a major search and rescue operation on Lough Ree involving the RNLI, Coastguard, Athlone Sub Aqua, Lanesborough Sub Aqua, and other local boats.
"The lifeboat crew were able to rescue two men from the water but a third remains missing.
"Our thoughts are with the men's families this evening. We will be launching again at first light to resume the search."