Northern Ireland Hospice preserves messages on memory wall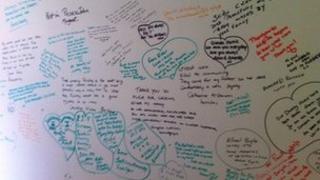 Hundreds of relatives have written messages on the walls of an old hospice building in north Belfast.
Many of them express gratitude to the staff.
The current hospice has been on the Somerton Road site for more than 25 years.
A new £13m facility will be rebuilt on the site. The work is being undertaken to build a brand building that will meet the end-of-life care needs of the next generation.
The memory walls will be torn down along with most of the rest of the old hospice.
But the hospice has photographed and videoed the messages to preserve them for the future.
One says: "Thank you for looking after my daddy. He was comfortable and respected. The staff were wonderful - angels in nurses' clothing."
Some have written poems or verses of scripture in memory of their loved ones.
And a number of children have drawn pictures of their parents or grandparents.
Paul McKeown is a nurse, who used to run the in-patient unit at the hospice, and is currently managing the rebuild programme.
"It's a very humbling experience to look at the writing that is on the walls," he said.
"There are a lot of fond memories, a lot of laughs as well, a lot of fun times that we had with patients and staff and a lot of sad memories as well.
It's also very reassuring, we do our work as nurses every day, but sometimes you forget how many hearts and people that you touch within nursing and it's just very humbling to see it written on the walls and the respect that people have."
Mr McKeown said it was easy when staff worked day-to-day to get caught up in the work and the job.
"It's nice to stand back and this in some ways allows us to see how people perceive us and how they perceive the NI hospice and the care that we provide and to have that written on the wall and to take the time to read that in the silence of the building as it is now is lovely," he added.