Ex-boxer Eamonn Magee sentenced for assaulting ex-wife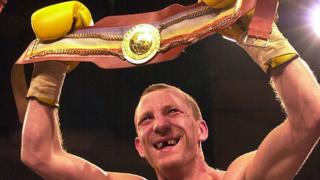 Former world boxing champion Eamonn Magee has escaped a jail sentence after being convicted of a drunken assault on his ex-wife.
A four-month prison sentence imposed on the 42-year-old ex-fighter for kicking Mary Magee was suspended for two years.
Magee was cleared of a second charge of stealing £30 and a house key from her.
Belfast Magistrates' Court heard a row flared between the pair after he came back to her home in the city following a night out drinking last September.
The court was told the argument centred on Magee's annoyance at his ex-wife's step sister being present.
Mrs Magee claimed he grabbed her mobile phone and deleted numbers before turning violent and kicking her on the leg.
'The Terminator'
She left the house but returned the following day and discovered the money missing from her handbag, the court heard.
Magee, known as The Terminator during a professional career which saw him capture the WBU welterweight title, denied the allegations.
He told the court any bruising on his ex-wife's leg was caused by her playing sport.
When his defence barrister questioned him about the alleged theft, Magee replied that he had not seen the missing £30.
"I have my own money, I don't need to take her money," he said.
He went on to describe feeling "disgusted" at being arrested and ultimately charged.
"I think this is about the 19th time I have been in court over allegations. It's just the same old, same old," Magee said.
Under cross-examination, the ex-boxer was unable to recall how much alcohol he had to drink before returning to the house.
"I wasn't drinking during the day to fall over, I was able to walk. Different people can hold different units," he said.
'Domestic violence'
Magee, with an address at Eskdale Gardens, Belfast, accepted being upset at finding someone in the house who "wasn't welcome" but denied getting angry.
"I did not touch her," he insisted.
"I'm here to put my case in front of the judge and plead my innocence again and again and again."
However, the judge ruled that Mrs Magee had been a reluctant but credible witness.
"Put in simple terms, as regards the allegation of assault, I believe her," he said.
The judge dismissed the theft charge, saying the allegation had not been proven to the required standard.
Imposing the four-month suspended jail sentence, the judge added: "I want to reflect the fact that this is a situation of domestic violence."
Knock down
Magee left the court without further comment.
His professional career spanned 33 fights and also included Commonwealth success.
He was the first boxer to knock down fellow ex-world champion Ricky Hatton, even though he went on to lose that bout on a split decision.
Since his retirement from the ring six years ago he has worked as a trainer at the famous Breen's Gym in Belfast.