Coleraine DVA: Staff redeployment 'could be difficult'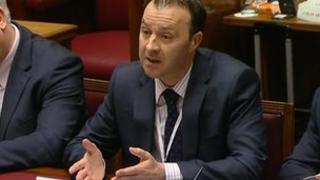 Driver and Vehicle Agency (DVA) officials have warned there may be difficulties in redeploying former vehicle licensing workers.
Around 300 jobs are being lost as services are centralised in Swansea.
Most of the Northern Ireland jobs are based at the DVA's office in Coleraine, County Londonderry.
Chief executive Paul Duffy said that many of them were in junior grade positions that were "non-transportable".
Senior employees are more likely to be redeployed elsewhere in the civil service.
Trevor Evans of the Department of the Environment, noted that "73% of staff are female" and "because the age profile of our staff is quite young, many with young children, the redeployment of youth mothers is difficult."
Dennis Walsh of the DVA said the priority would be redeployment and at present there was "no plan for a voluntary or compulsory redundancy scheme", which would be "a last resort."
The SDLP's Alban Maginness noted that it was almost 60 miles from Coleraine to Belfast, which would make it "impractical" for those caring for children or elderly relatives.
Committee chairwoman Anna Lo asked: "what would you say was a reasonable distance to travel?"
Dennis Walsh replied: "It hasn't been defined. That's the reason for the preference exercise to establish what peoples' personal circumstances are".
A consultation was being carried out to establish workers' requirements and issues such as disability or caring responsibilities.
Dennis Walsh said that there were existing vacancies in the civil service, but "it would depend if Belfast was considered a reasonable travelling distance for those staff".