Giro d'Italia: Inspectors approve 200 miles of NI route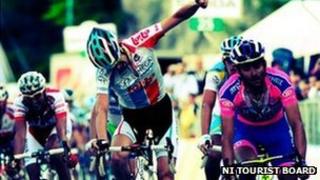 Organisers of the Giro d'Italia cycle race have approved the planned course for May's event, declaring Northern Ireland's roads "almost perfect".
Italian delegations toured the routes and studied more than 200 miles of roads.
Roy Gordon from the Roads Service said the cyclists asked for minor changes.
"The road studs we use to delineate road crossings are a skid risk, so we will have to remove those on the last 400 to 500 metres," he said.
"There are several traffic islands that we will need to take out on the later stages. Other than that, we are very happy with the condition of the roads."
The world's second largest cycle race starts on 9 May in Belfast. It will also take in the north Antrim coast and Armagh.
The Giro is expected to attract tens of thousands of visitors.
A total of 22 teams will compete in the three stages in Northern Ireland. Most of the top 200 cyclists in the world are expected to take part.
The three-week long Giro is hosted primarily in Italy but, since 1996, the Grande Partenza (big start) has been hosted outside the country, most recently in Denmark.
Last year's Giro was broadcast in 165 countries, with an estimated global audience of 775m people.
The three stages that will start in Northern Ireland are:
Friday 9 May - Team time trial from Belfast city centre to Stormont and back
Saturday 10 May - Belfast to Causeway Coast and back
Sunday 11 May - Armagh to Dublin
The Belfast stages are expected to start in the Titanic Quarter and finish at the city hall.