North Down councillor Brian Wilson condemns £4,500 allowance rise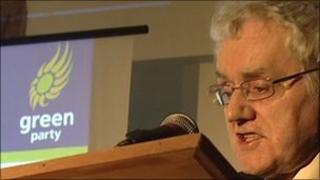 A veteran councillor and former MLA has condemned the proposed increase in councillors' allowances.
Northern Ireland councillors are in line for an annual rise of almost £4,500 in their basic allowance.
The rise will take their basic allowance to £14,200 when 26 local authorities are reorganised into 11 larger super councils.
But Brian Wilson, an independent councillor in North Down, said: "There is no justification for any increase."
Mr Wilson, who has been a councillor for 33 years and was a former Green Party MLA, also said that NI councillors were "significantly overpaid" when compared to their counterparts in England.
He said that councillors with second-tier local authorities in England, which have similar powers to those of NI's super councils, are paid less than £5,000.
Mr Wilson said: "New powers transferred to councils, despite grossly inflated claims, are, in fact, minimal.
"The main traditional local authority services such as roads, housing, social services, education, libraries and youth services remain centrally controlled by the executive or boards.
"Apart from planning nothing significant has been transferred."
Environment Minister Mark H Durkan announced the rise in allowances to the assembly on Wednesday.
He said councillors faced "significant changes" as a result of the introduction of the super councils, which included having to represent a larger electorate.