Union flag: NI Assembly rejects new proposals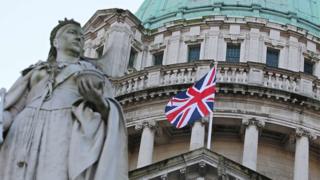 MLAs have rejected a proposal to reinstate the flying of the union flag on Belfast City Hall every day of the year.
The late-night Assembly vote saw the Ulster Unionist plan defeated on a cross-community vote.
The vote was taken as part of a two-day debate on the Local Government Bill.
There were widespread loyalist protests when Belfast City Council limited flying the flag to designated days in 2012.
Another UUP proposal to make the flying of the union flag compulsory on all council buildings on designated days was also defeated.
Two Alliance Party amendments also fell to cross-community votes.
New councils
They had proposed that the union flag should be flown from all council headquarters in Northern Ireland on designated days.
MLAs were debating a bill that sets out what powers 11 new local councils will have and how they should be run.
On 22 May voters will get to pick the councillors who will sit on new councils.
The bodies will exist in shadow form for a year before taking over real power from the current 26 councils.
The second day of debate on the consideration stage of the bill was dominated by a discussion on flags.
Sinn Féin and the SDLP had submitted a valid petition of concern on four amendments concerning flags, which caused them to be taken on a cross-community vote.