Simon Hamilton: Budget means £21m extra for NI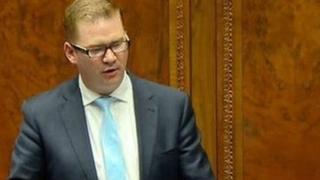 Northern Ireland's finance minister said Wednesday's budget will lead to a small amount of additional money for Stormont over the next two years.
Simon Hamilton said it would mean an extra £10.2m for infrastructure spending and about £11m for other departmental spending.
Stormont's annual budget consists of about £10bn in departmental spending and £1bn in infrastructure spending.
The money is allocated under a system known as the Barnett formula.
Mr Hamilton said he welcomed the additional allocations but again warned that the public finances remain tight.
He said that while the budget continues to reflect increasing UK economic growth Chancellor George Osborne has made it clear that the UK government would continue to use any gains from higher economic growth to reduce the national deficit.
"Unfortunately that means that the public sector is facing a sustained period of budget constraint," Mr Hamilton added.
Mr Osborne used the budget to announce the creation of Northern Ireland's first enterprise zone in Coleraine, County Londonderry.
The zone will be built at a site close to the University of Ulster.
Mr Osborne also announced an increase in the payable income tax threshold to £10,500, scrapping a proposed fuel duty rise in September and a cut in beer duty by 1p per pint.
'Devastation'
Northern Ireland Secretary Theresa Villiers said Wednesday's announcements were "further evidence of the government's commitment to support the people and businesses of Northern Ireland".
She said: "There are measures to incentivise banks to lend to small and medium size business, support for investment, and the opportunity for Northern Ireland's airports to bid for aid for new routes."
Daithí McKay, Sinn Féin's economic spokesperson, said: "The main message coming out of this budget is that the Tory chancellor is determined to continue on the failed path of austerity regardless of the devastation it will inflict on the most vulnerable in society.
"While welcome, the proposed enterprise zone for Coleraine will be cold comfort to the 300 public sector workers who have lost their jobs in that town's DVA office."
Sandra Overend, economy spokesperson for the Ulster Unionist Party, also welcomed the enterprise zone announcement.
She added: "The focus in the budget on reducing energy costs to manufacturing businesses and in turn putting money in consumer's pockets is very welcome.
Criticised
"It is a fact that although there are some encouraging signs, the recession in Northern Ireland has been deeper and longer lasting than in the rest of the UK.
"The local economy is still approximately 10% below where it was when the recession hit and in those terms, we are still some way behind Great Britain."
Alliance MP Naomi Long criticised the chancellor for not cutting fuel duty.
She said: "It is well known Northern Ireland has among the highest fuel prices in Europe, with estimates that we're paying around 1.5p above the national average.
"It is of vital importance that we see a cut in fuel duty in the immediate future, before the economic competitiveness of Northern Ireland is severely damaged."
David Fry, the Confederation of British Industry's senior policy adviser in Northern Ireland, said: "The budget will put wind in the sails of business investment, especially for manufacturers.
'Empty-handed'
"This was a make or break budget coming at a critical time in the recovery, and the chancellor has focused his firepower on areas that have the potential to lock in growth."
However, a union representative said the budget will "leave Northern Ireland's workers empty-handed".
Jimmy Kelly, Unite regional secretary, said: "Today's budget does nothing to address the crisis in living standards which sees over one in every four Northern Ireland workers trying to survive on less than the living wage.
"If the government was serious about rewarding work, they would have substantially increased the minimum wage."
The cut in beer duty was welcomed by Colin O'Neill, chief executive of Pubs of Ulster.
He said: "We also welcome the freeze on the duty on scotch whiskey, spirits and ordinary cider.
"The government today has demonstrated a willingness to support businesses and help pubs remain afloat by keeping duty down and we welcome that."