Coleraine to get Northern Ireland's first enterprise zone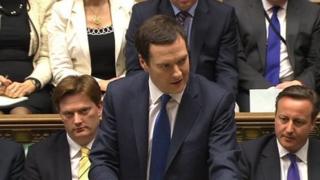 Chancellor George Osborne has announced the creation of Northern Ireland's first enterprise zone in Coleraine, County Londonderry.
The zone will be built at a site close to the University of Ulster.
IT company 5Nines have previously announced a £20m data centre for the site.
Enterprise zones already exist elsewhere in the UK and offer hi-tech businesses tax incentives and simplified planning procedures.
The mayor of Coleraine, David Harding, said: "The chancellor's announcement of an enterprise zone in Coleraine is very welcome good news for the local economy.
Commitment
"I look forward to finding out further details about the enterprise zone and I am confident it will also enhance the plans which we have for Project Kelvin at the University of Ulster."
Northern Ireland Secretary of State Theresa Villiers said: "The announcement of a new pilot enterprise zone at Coleraine is particularly welcome.
"This meets another commitment made in the economic pact and with increased capital allowances available until 2020 this will help make longer term investment easier."
Northern Ireland Finance Minister Simon Hamilton said: "Through a pilot enterprise zone, we can help to achieve the Northern Ireland Executive's number one priority to grow the economy."
Extended
Enterprise Minister Arlene Foster added: "Such investments can be crucial in the development of the ICT sector as a whole and will, without doubt, enhance the proposition Northern Ireland can offer to inward investors who are increasingly globally connected."
Glyn Roberts, chief executive of NIIRTA (Northern Ireland Independent Retail Trade Association), welcomed the announcement, but called for the zone to be extended.
"We would like to see this proposed pilot enterprise zone to include the north-west as whole, including Derry/Londonderry and Strabane, to build upon the legacy of the City of Culture."
There are currently 24 enterprise zones in England and seven in Wales.
The enterprise zone will be built where the Project Kelvin transatlantic fibre, which connects the US and UK, comes ashore.
In October 2013, 5Nines announced plans for a £20m data centre on the site that will create 15 jobs.
The Northern Ireland Executive had previously identified the need for such a centre as playing a crucial role in capitalising on Northern Ireland's strengths in IT.