Local Government Bill: Council vote proposals opposed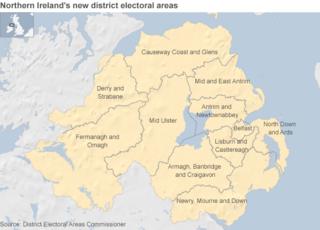 The environment minister has opposed amendments tabled by the Alliance party to replace the D'Hondt system as the preferred mechanism for allocating posts in local councils.
Mark H Durkan was introducing the third group of amendments in the assembly's debate on the consideration stage of the Local Government Bill.
The effect of these amendments would mean the single transferable vote (STV) would be the default method for allocating positions of responsibility.
It would replace the D'Hondt method - a form of proportional representation - specified in the bill.
The bill sets out what powers 11 new local councils will have and how they should be run.
The D'Hondt system is used in the Northern Ireland assembly and is felt to be suitable for use in a divided society, aimed at ensuring cross-community representation.
"I therefore call on the house in the strongest possible terms not to support these amendments," Mark H Durkan said.
Mr Durkan also objected to an Alliance amendment making the committee system the default arrangement for running a council.
Anna Lo of Alliance said she was "a bit disappointed to hear the minister is not supporting this".
She also drew attention to an amendment she had brought with Cathal Boylan of Sinn Fein and Peter Weir of the DUP to ensure that five representatives of the Northern Ireland Local Government Association (NILGA) or its equivalent would be appointed to the partnership panel.
The panel was intended to bring together representatives of local and regional government.
Peter Weir of the DUP argued that replacing D'Hondt was not a good idea given the small number in the "electorate".
"In these circumstances STV simply doesn't work," he said
Sinn Fein's Barry McElduff said his party had made clear to the minister that they would accept nothing short of the retention of the D'Hondt principle.
He said the party's view was that local government should be "as close to local communities as practically possible".
Ulster Unionist Tom Elliott was concerned about the position of ratepayers in areas where two councils were merging and one had much higher rates than the other.
He commended his party's proposal for a three-year rate convergence support.