Belfast City Council expands broadband scheme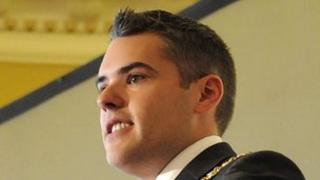 The government has given permission for Belfast City Council to expand a scheme supporting broadband access, the BBC has learned.
It means an additional 800 businesses in Lisburn and Castlereagh may apply for grants of up to £3,000.
Belfast was awarded 10% of the national fund.
Councillor Gavin Robinson said it was a significant achievement and showed foresight on the part of the council.
"Our officers had the foresight to recognise that because the city is going to expand they sought and secured the flexibility necessary to include parts of Lisburn and Castlereagh that currently aren't a part of Belfast, but that will be joining us in the near future," he said.
"That means that another 800 businesses and charities will have the opportunity of applying for this fund."