Royal Victoria Hospital: 40 extra nurses to be appointed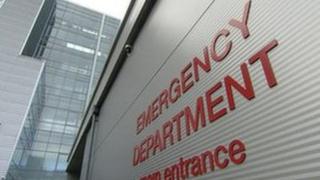 Forty extra nurses are to be appointed after a review of staffing levels at the Royal Victoria Hospital in Belfast.
The additional jobs will be in the accident and emergency (A&E) department and the acute medical unit (AMU).
Eighteen of the nurses are already in post and the remaining 22 are expected to start over the next few weeks. A further four will be appointed soon.
The health minister announced the posts as he updated the assembly on of a review into A&E care at the hospital.
The review was ordered after a major incident was declared at the RVH's A&E department in January.
At one stage during the incident 42 people were waiting on trolleys, and staff described the situation as "horrendous".
An investigation is also under way into five deaths in which delays in treating the patients may have been a contributory factor in their deaths.
However, the BBC understands that figure could rise after another family was contacted, a day after the BBC reported that an elderly woman had died at the hospital's emergency department last month, where a delay in treating her could also have been a contributory factor.
The Regulation and Quality Improvement Authority (RQIA) review is due to report in April.
'Confidence'
It is also working on a wider review of accident and emergency care in Belfast and the rest of Northern Ireland.
The minister, Edwin Poots said the new nursing jobs - 15 in A&E and 25 in AMU - was one of a number of steps the Belfast Trust had already taken to improve services ahead of the report.
In a written statement he said: "It is important that the public is aware of this work and action already taken so that it can have confidence in the services being provided in our emergency departments and across health and social services more generally."
Mr Poots said there were "no easy solutions" to the problems, and added: "I am under no illusion that it will take time to make a difference.
"I don't expect change to happen overnight - but I do expect progress to be made.
'Too little, too late'
"It is clear that there has been progress to an extent, but much more needs to be done and we need to maintain the momentum that has been built."
The chair of the assembly health committee, Sinn Féin's Maeve McLaughlin, welcomed the measures, but said more needed to be done to restore public confidence in the health system.
"The announcement by the minister of health, Edwin Poots, of a number of measures to offset the pressures currently faced by the A&E department in the RVH is to be welcomed. They are long overdue," she said.
"However, the minister still has a huge hill to climb in terms of restoring public confidence in the health system."
A public sector union spokesman said the announcement of more nurses was "too little too late".
Ray Rafferty of Unison, who works in the RVH, told BBC Radio Ulster's Talkback programme: "This is something we've been highlighting for 18 months.
"I think the minister needs to own up here and say that he has let the service run down, that there is a shortage of beds, and it's more than just a question of supplying 40 nurses to resolve the problem."
The Commissioner for Older People Claire Keatinge said elderly people in Northern Ireland had become fearful of going to emergency departments.
"I've been very concerned about the treatment of elderly people right across accident and emergency departments, right across Northern Ireland," she said.
"Too often we hear of elderly people who are left on trolleys far too long who don't think they have received dignified treatment."
She added that she had asked the minister for an assessment to be carried out on elderly patients' experience of A&Es across Northern Ireland, but had yet to receive a reply.
Maeve Hully, of the Patient and Client Council, welcomed the additional nurses, but said: "It's just not about fixing emergency departments. The whole system needs to be reviewed.
"When you have people coming in the front door you need to make sure the support is there to get people discharged back into the community, and the community services are there.
"You will always have a backlog in emergency departments if people aren't able to be discharged at the other end."
Garrett Martin, deputy director of the Royal College of Nursing in Northern Ireland, said: "We very much welcome the minister's statement, and see it as recognition that the minister is now listening.
"However, these staff can't just walk on to the departments and wards and function to the level that you require, particularly in a specialist area like an emergency department.
'Improvement'
"It takes time to train and develop and orientate staff to an area where you need specialists."
Mr Poots also claimed there had been a dramatic reduction in the number of patients across Northern Ireland who had waited more than 12 hours for treatment.
"Whilst clearly there remains much to be done, we have seen improvement in the number of 12-hour breaches," he said.
"Regionally there has been a significant reduction in the number of patients who have waited longer than 12 hours - from September 2013 to January 2014, 558 patients waited longer than 12 hours compared to 2,248 during the same period last year, a reduction of 75%."
Mr Poots also told the assembly that a major summit on emergency medicine would be held in Northern Ireland on 9 April.
The College of Emergency Medicine conference "will bring together policymakers, key leaders in health and social care, as well as staff who work on the front line and senior colleagues from across the UK to take a whole system look at our unscheduled care systems".