Up to 45 graves vandalised in Newry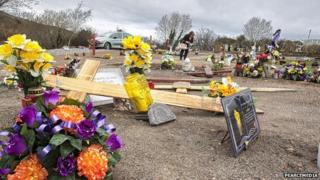 Up to 45 graves have been vandalised in a series of attacks in Newry, County Down.
Wooden crosses have been pulled up, wreaths have been damaged and grave-side ornaments have been smashed at Monkshill Municipal Cemetery.
The latest attack took place at the weekend, but a Sinn Féin councillor, whose mother's grave was among those damaged, said it began last Thursday.
Councillor Valerie Harte said it caused extreme upset to bereaved families.
'Crying'
"I am totally disgusted that anyone would deliberately damage a grave, however the fact that my recently deceased mother's grave was among those targeted makes it all the more devastating that this has happened on two occasions," Ms Harte said.
"It's the place where you lay people to rest, to go and spend some time at a loved one's grave. To be met with the scene that we were met with on Saturday evening was unreal.
"It was unreal to see grown men and women standing crying at the scene of destruction that was there," she told BBC Radio Ulster.
The wooden crosses were placed to mark graves that have been filled within recent months, as the families of the deceased wait for permanent headstones to be erected.
About 25 of the crosses have been pulled up during the attacks.
Babies' graves
Ms Harte said the first act of vandalism took place on the afternoon of Thursday, 13 March and a similar attack took place on Saturday.
She added that the worst aspect of it was the fact that the graves of four infants were among those vandalised.
"For all of the families involved this is extremely upsetting, however, for the loved ones of four small babies whose graves were destroyed I can only imagine the pain and annoyance must be dreadful.
"We can think of no explanation for these attacks, no rationale and no motive," Ms Harte said.
'Despicable acts'
A Police Service of Northern Ireland spokesperson said: "We can confirm we are investigating several incidents of criminal damage to property and graves in the cemetery over the past few days.
"These are despicable acts of vandalism by individuals who have no respect or thought for their community or society in general."
The municipal cemetery is managed by Newry and Mourne District Council.
Ms Harte said: "I don't believe that young people are responsible as these crosses, which many families place at graves until a proper headstone is ready, are heavy and are well secured in the ground."