St Patrick's Day: Belfast parade 'biggest in years'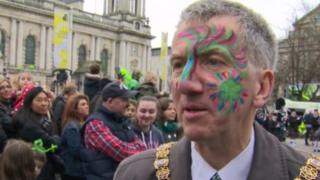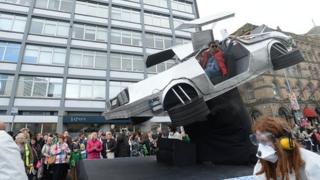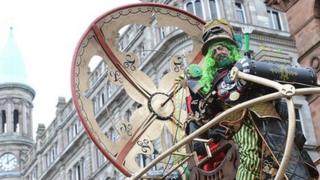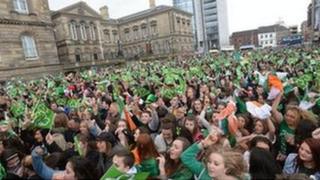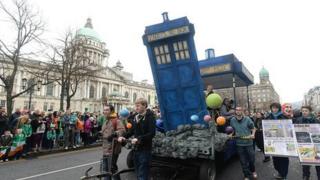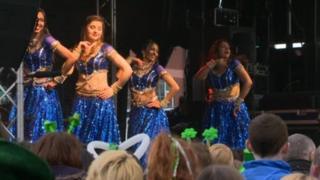 Belfast's lord mayor has hailed the city's St Patrick's Day parade as the biggest in years.
The city staged its parade on Sunday, the day before St Patrick's Day.
Lord Mayor Máirtín Ó Muilleoir said: "What we wanted to do was, because St Patrick's Day isn't a public holiday, let's have an event everyone can attend.
"All the schools are closed today, there are no places of work really open and I think it's paid off for us."
He added: "It's the biggest turnout I've seen in some years on St Patrick's Day, great colour, lots of green, and what really thrills me is that 700 young people, from right across the city, the Shankill and the Falls, are leading the carnival parade.
'Diversity'
"We have a lot of parades in the city of Belfast and what we really want are inclusive parades, fun parades, carnival parades, and this St Patrick's Day parade ticks all those boxes.
"It's a day of great unity for the city but we're also celebrating the diversity of Belfast."
Mr Ó Muilleoir was at the head of the parade and got into the party spirit by having his face painted.
He said: "I put on my best make-up in the hope that I'll be picked out for a jig or a reel when we reach Custom House Square."
Thousands of people were in the city centre for the parade and a free concert.
The theme of the parade was St Patrick - Into The Future, with the saint depicted as a time-travelling adventurer.
New song
The parade included floats, performers and music.
Among the floats was a Back to The Future flying DeLorean, and a Doctor Who Tardis.
A brand new Belfast song was also premiered by a gigantic Beat Carnival Street Choir.
Former X Factor winner Shayne Ward was among the performers at the Custom House Square concert.
City centre shops were open as normal from 13:00 GMT to 18:00 GMT.
On Monday, a concert at Belfast's Waterfront Hall will celebrate movie music with local associations.
St Patrick's Day Concert: The Emerald Screen will feature soundtrack music from classic films like The Quiet Man and Odd Man Out, as well as more modern compositions from Good Vibrations, The Shore, and David Holmes' work on the Oceans series.
Downpatrick, Londonderry, Omagh and Enniskillen also stage St Patrick's Day parades on Monday.