Norfolk crash: Helicopter wreckage removed by investigators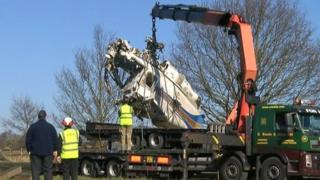 Investigators have removed debris from the crashed helicopter that killed four people in Norfolk, including Northern Ireland peer Lord Ballyedmond.
The Air Accidents Investigation Branch (AAIB) recovered the crash debris.
The flight voice recorder of the helicopter has already been recovered for analysis.
The Agusta Westland AW139 crashed in a field at Gillingham, near Beccles, at about 19:30 GMT on Thursday.
The other victims were Declan Small, and pilots Carl Dickerson and Lee Hoyle.
AAIB investigators plotted the distribution of the debris on the field before removing fuel from the helicopter to make it safe.
Site workers spent Saturday removing the rotor blades and tail-section from the helicopter in readiness for its removal.
It is not known what caused the crash, but witnesses reported fog in the area at the time and said the helicopter came down very soon after taking off from Lord Ballyedmond's estate.
Prayers were said at All Saints, Kirby Cane, in their Sunday morning service, and four candles were lit in memory of the victims.
The Reverend Julie Oddy-Bates said before the service: "It's a huge tragedy for the families of all four men that died and in a small community those things have a big effect.
"During our prayer time we'll be praying for them and for their families in this time of grief.
"It's always important to remember the lives of anyone who's been lost, particularly in a tragic situation like this."
Tributes have been paid to Dr Edward Haughey, who became Lord Ballyedmond of Mourne when he was created a life peer in 2004.
A leading industrialist, he owned veterinary pharmaceutical firm Norbrook Laboratories in Newry, County Down, and had a range of other business interests.
As well as being a member of the House of Lords, he was a former member of the Irish senate.
A spokesman for Agusta Westland said the company could not comment on possible defects with Lord Ballyedmond's helicopter, but said it was making checks internally and would support the ongoing investigation in any possible way.
The findings of the AAIB investigation are expected in about 12 months time.