NI politicians remember Tony Benn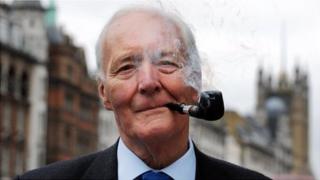 In British and Irish politics, Tony Benn was a divisive political figure.
His support for a united Ireland, and his invitations to Sinn Féin's Gerry Adams to meetings at Westminster, made him unpopular with unionists.
However, his skills as an orator and his political stamina earned him respect, even among many of his enemies.
The DUP's Sammy Wilson MP said: "I may have hated every word he said, but I have to admit, he said it with style.
"He knew how to hold an audience's attention and for any politician, that's a real gift.
"As a communicator, he was superb."
Gerry Adams said: "Tony was a true friend of the Irish people.
"He remained an avid supporter of Irish freedom throughout his life.
"Tony was a champion of the downtrodden and the voiceless in Britain, in Ireland and throughout the world."
Mr Benn once described Ian Paisley as "an attractive old rogue" and in spite of their vastly different political perspectives, they admired each other's longevity and parliamentary panache.
Controversial
Mr Benn, who died on Friday at the age of 88, once campaigned to have the Queen's head removed from stamps. He was a republican, advocating an end to the monarchy.
Although his views on Northern Ireland were controversial, he kept the issue on the agenda at Westminster, at a time when many others lost interest.
He once said: "So many people in Britain still think of the situation in Northern Ireland as a foreign situation whereas really it's the biggest domestic issue in British politics and has got to be resolved by dialogue."
In 2002, when the peace process had reached a stalemate over IRA arms decommissioning, he called for joint authority to be introduced by London and Dublin. He was never afraid to say what he thought.
He fought 17 elections before retiring as an MP in 2001.
In later life, Mr Benn encouraged Sinn Féin to consider taking its seats in the House of Commons.
He told BBC Radio Ulster's Talkback programme: "The thing about it (taking seats in the Commons) that's offensive is that it requires MPs to swear allegiance to the Queen.
"If you're an MP your allegiance is to your constituents, to your party, to your conscience, so really MPs have to lie in order to sit in Parliament. I had to tell 17 lies."
Tony Benn was a master of the sound-bite long before the phrase was invented. He spent more than 60 years in public life and was seldom away from the political spotlight.
The Guardian's Michael White described him as "an establishment insider who became a rebellious leftwing outsider... he nonetheless managed in old age to become something of a national treasure".