On the Runs: Powell insists DUP knew of concessions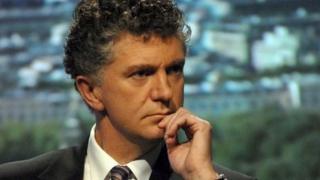 Tony Blair's chief negotiator during the peace process has said he stands by his claim the DUP knew of concessions made to Sinn Fein over IRA On the Runs.
In his book, he said the DUP could accept the scheme if Tony Blair wrote to Ian Paisley making clear it had been agreed under David Trimble's watch.
First Minister Peter Robinson described that as "nonsense".
Mr Powell said on Friday: "The book was based on my diaries and the Number 10 papers when we were in government."
Speaking on BBC's The View, he said: "I stand by everything in the book. The book was written in 2008. I'm not going now into suggestions about who knew what when."
'Bigger problem'
Mr Powell said US diplomat Richard Haass' warning of renewed violence "seems extremely sensible".
"He's saying that unless you tackle the problems of sectarianism, the deeper problems, you will indeed have violence again and you will not have solved the underlying problem," he said.
"Peace processes are not like fairy stories. You don't live happily ever after once you have the peace agreement, that solves part of the problem, but there's a bigger problem which needs to be addressed by politicians afterwards."
On the Runs were people suspected of, but not charged with, paramilitary offences committed before the Good Friday Agreement, those who had been charged with offences but who had escaped and those who had been convicted of offences but who escaped.
Letters were sent by the government to 187 people assuring them they did not face arrest and prosecution for IRA crimes.