PUP man fails to block media reports linking him with UVF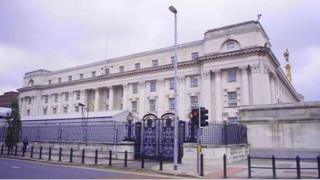 A Progressive Unionist Party (PUP) member has failed in a legal bid to block reports he is involved with loyalist paramilitaries.
Belfast man Colin Fulton was seeking an injunction to prevent the Sunday World newspaper publishing his alleged links to the Ulster Volunteer Force (UVF).
The man's lawyers argued that the articles had put his life at risk.
The judge at Belfast High Court found Mr Fulton had created the risk by associating with UVF members.
The judge said it was in the public interest that journalism work freely in a community "bedevilled" with paramilitaries.
He added that serious allegations had been made about Mr Fulton that "seethe with the brutality of paramilitary involvement".
At risk
Mr Fulton, who denies any role in the UVF, sought the interim injunction as part of a wider harassment claim against the Sunday World.
He has received six separate warnings from police that he is under threat, four of them coming after the newspaper began claiming he had a role in the UVF.
His lawyers said his life was under increasing risk from dissident republicans due to the newspaper reports.
They said that dissident republican websites had referred to the articles directly.
However the newspaper's lawyers said Mr Fulton had put himself at risk by attending protests where UVF members were present.
The court also heard that he flew a UVF flag outside his home in the Village area.
Mr Fulton said this was cultural expression in tribute to the centenary of the Ulster Covenant.
Association
However the judge said the PUP member had "some difficulties with fact and fiction".
He said that Mr Fulton had denied ever being arrested and initially failed to disclose that the first threat had been made three months before the newspaper identified him.
The judge added: "Mr Fulton's continued association with alleged notorious UVF members and his consequent public exposure, notwithstanding the early threats to his life, suggests that he may be drawn inexorably to activity that generates the threat to his life which he most fears."
The judge also said the man's decision not to sue for libel, explained as being down to a lack of money, was "not without significance".