Union conference: Stress having severe impact on teachers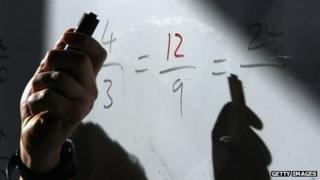 Increasing workloads and stress levels are severely affecting the work and life balance of Northern Ireland teachers, a union conference will hear.
NASUWT president Dennis O'Hara will say stress levels are having a "severe impact" on teachers' home life.
Graduates are also increasingly finding it difficult to get a job, he will tell the union's annual conference.
Teachers face retirement with inferior pensions and seeing income fall as they face 1% pay awards in coming years.
Mr O'Hara also criticised MLAs and their attitude to the Education and Skills Authority (ESA), claiming they had "torpedoed" the notion of the ESA.
Turning to the union's successful industrial action campaign in Northern Ireland, he will tell members to continue their fight and not to be intimidated by "bossy management teams".
Mr Hara will tell the conference: "Teaching was never an easy career pathway, but when I started, it had a beginning, middle and a definite end. At all times, the centre of attention was the education of the children placed in your care.
"The education of young people is still the chief concern of all teachers, but the work load and stress levels that today's teachers experience are having a severe impact on their health and work/home life balance.
'Thwarted'
"The beginning was all about getting a teaching job. I feel sorry for all the young graduates today, so eager to enter the profession, but thwarted by the lack of jobs available.
"The middle was the early recognition of your teaching skills, promotion with responsibilities and the opportunity to directly influence the school curriculum.
"The end was the satisfaction of having educated young people to the point where they could progress to further and higher education and know how to advance their career pathways.
"And for the teacher, retirement at age 60 complete with a comfortable pension.
"Oh sadly, now in 2014, how that bubble has burst."
Turning to the ESA, he will say teachers are concerned about a range of issues affecting them including pensions, pay, conditions of service, workload, jobs and school rationalisation.
He said: "We were led to believe that the establishment of ESA would have addressed the aforementioned issues, but Northern Ireland MLAs have torpedoed the whole notion of ESA and a new education authority or revamped education boards will have to be put in place."
He added: "We are still continuing our industrial action and I would encourage you as delegates and school reps to go back to your associations and school colleagues and encourage members to support all aspects of our action and not be intimidated by bossy management teams."