PSNI to march in New York St Patrick's Day parade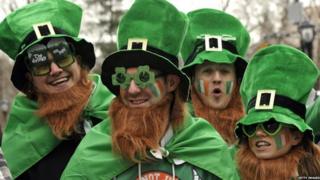 The Police Service of Northern Ireland (PSNI) will march in New York's St Patrick's Day parade for the first time.
Six PSNI officers will march alongside members of the Irish police (An Garda Síochána).
New York hosts one of the world's biggest St Patrick's Day celebrations on 17 March, and the parade is America's oldest Irish tradition.
NI politicians are in the USA for talks ahead of the parade.
The six PSNI officers were chosen to take part in the St Patrick's Day event because of their participation in the World Police and Fire Games held in Belfast last year.
The PSNI delegation will be led by a chief inspector.
Assistant Chief Constable Alistair Finlay said: "We are delighted to have six officers in New York representing the PSNI and participating in the St Patrick's Day Parade."
The officers will march in uniform alongside garda officers in what is being described as a show of mutual respect.
The move came about after the New York parade organising committee said they would welcome PSNI participation.
Northern Ireland politicians have arrived in the USA for a round of engagements with the American vice-president, Joe Biden on Thursday.
Peter Robinson, Martin McGuinness, Secretary of State Theresa Villiers and Taoiseach (Irish Prime Minister) Enda Kenny will also take part in events to celebrate Ireland's patron saint.
The White House said they would discuss progress towards peace and prosperity.
The meeting comes as former talks chairman Dr Richard Haass warned that Northern Ireland was at risk of returning to violence over its failure to deal with the legacy of the past and ongoing divisions over issues such as flags and parading.