Sex slavery case: Keith Baker too ill to attend Craigavon court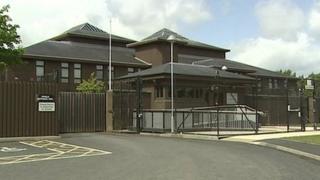 A County Armagh man who is in custody, charged in connection with a sex slavery case, has failed to appear in court for the latest hearing.
Keith Baker, of Drumellan Mews, Craigavon, faces 15 charges against two women, one of whom is disabled.
His wife is charged with falsely imprisoning the same vulnerable woman.
Police wanted to make an application to question him, but Craigavon Magistrates Court was told he was not brought from Maghaberry Prison because he was ill.
Last month, a judge lifted reporting restrictions allowing the pair to be identified for the first time since their cases came to court.
The charges against 57-year-old Mr Baker include rape, voyeurism, and human trafficking for sex offences.
He is also charged with sexual assault, aiding and abetting rape and false imprisonment.
It was alleged one of the women was kept in squalid conditions, and repeatedly sexually abused over a 10-year period.
Mr Baker's wife, 51-year-old Caroline Bernadette Baker, is accused of falsely imprisoning the severely disabled woman between 2004 and 2012.